Revolutions We'd Hoped We'd Outgrown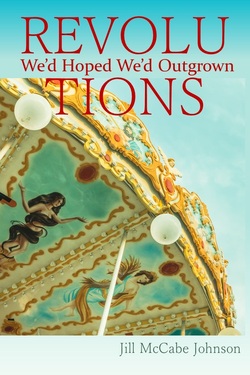 Advance Praise for Revolutions We'd Hoped We'd Outgrown

In one of her essays, Audre Lorde brilliantly redefines the erotic as the capacity to fully experience every dimension of life, from the sensual to the political. Revolutions We'd Hoped We'd Outgrown marvelously illustrates Lorde's vision. In poems that look at the toughness and tenderness of the body, the joy and dread of consciousness, and the complexities of the intimate and the social, Jill McCabe Johnson continually reaffirms "the lure of thrum, blossom, and burn." As moving as they are wry and steely, Johnson's poems are especially urgent in their explorations of the experiences of women in the world, and in their explorations of the psychic violence that pervades much of our daily awareness of contemporary life. Full of vivacity and brokenness, Revolutions We'd Hoped We'd Outgrown is a poetry that we very much need now.

—Rick Barot, author of Chord, winner of the PEN Open Book Award

Jill McCabe Johnson walks through the world aware of both privilege and peril. The pace of her perambulations allows her to exercise (pun fully intended) her keen powers of observation, her formal dexterity, and her considerable lyrical gifts. Revolutions We'd Hoped We'd Outgrown is full of street smarts, hard-earned wisdom, and an emotional depth that shows us how to face all our revolutions, how to survive with "deliverance and grace."

—Grace Bauer -- author of The Women At The Well and Nowhere All At Once


---
Diary of the One Swelling Sea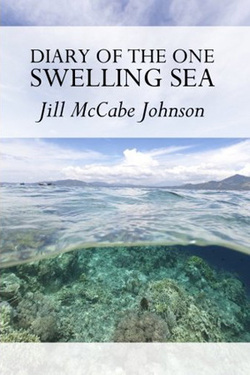 Praise for
Diary of the One Swelling Sea
Published by MoonPath Press, an imprint of Concrete Wolf
In beautifully shaped, undulant, brief poems (or, one might call them entries in a daybook, bejeweled moments, cries from the heart) Jill McCabe Johnson asserts that the world, specifically the sea, is powerfully alive and available to us by way of the imagination. With precise and lyrical language both scientific and newly created for the occasion, Johnson faces the pain of degradation, yet also celebrates the joyous, nurturing nature of the sea.
Diary of the One Swelling Sea
is an intimate portrait of elements-become-flesh, rendered by a consciousness and heart large enough, and generous enough, to face the complexity of hard truths.
—Lia Purpura, author of
Rough Likeness
and
King Baby
Living on Orcas Island, Jill McCabe Johnson is a close neighbor to the sea.
In her briny poems, she takes us even closer--letting us read the sea's diary. From sea ground to surface, we see the intimate, inside story. Careful observation, precise research, musical phrasing, and active imagining surge through these poems. Ninety-five percent of the earth's oceans remain unexplored. What better metaphor for the vast mysteries of our existence--the constant change, the contamination, the resurgence, the essence of life and death. In these elegant poems, forces huge as magma shove up and forces delicate as brittle stars taste changes in sea water. Marvelous.
--
Peggy Shumaker, author of Gnawed Bones and Just Breathe Normally
I'm in awe of what Jill McCabe Johnson has accomplished with this gorgeous, stunning book! These brief and modest poems invite the reader into the wise, yet innocent mind of the Sea who pines for his night mistress
Mirror
(the moon), and watches over his sea creature
lovelies
that dwell deep in the One Swelling Sea.
--
David Huddle, author of Glory River and Black Snake at the Family Reunion
...a lush peek into the life of the briny deep, channeled from a viewpoint we rarely consider. In a rhythmic ebb and flow, we experience what it looks like, what it feels like, to view life from the bottom up.
—Lin McNulty,
Orcas Issues
, February 11, 2013
...in succinct daily entries, the poet channels the global ocean, spilling its thoughts on everything from penguins to tides to the Great Pacific Garbage Patch. Each entry is a broth of scientific precision and finely honed wordplay.
—Barbara Lloyd Michaels, Syndicated Columnist, January 28, 2013
Featured on author Susan Wingate's
The First Page
. "You're
going to
love
Jill's first page contribution from her poetry collection entitled, DIARY OF THE ONE SWELLING SEA."
—Susan Wingate, author of
Drowning
and
Sacrifice at Sea
, April 9, 2014
You can buy the book new on Amazon at the link below. Some of the used copies are going for just over $60. This may just be the predatory practices of certain booksellers, or it could be they actually have one of the few available first editions printed without the Nautilus Award on the cover. If you pay four-times the price of the new book, make sure you're getting the "collectible" version. Otherwise, you can buy the book new here:
---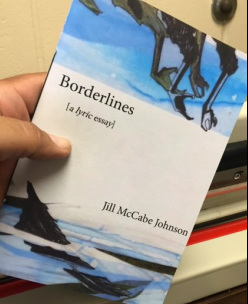 About once a year, and by solicitation only, Sweet Publications publishes a limited-edition, handmade chapbook of poetry, creative nonfiction, or graphic nonfiction.
Borderlines
, a lyric essay, was selected by
Sweet
editor, co-founder, and writer extraordinaire,
Ira Sukrungurang
. The cover art was created especially for the book by
Corinne Duchesne
, and the hand-sewn "signatures" were by none other than Ira, the "hand model" pictured at left.
From the Publisher:

"Jill McCabe Johnson's lyric essay, "Borderlines" dives into memory and water. In poetic prose, Johnson fragments a moment in her life, seeking to understand and uncover the innocence of childhood and the dark shadows that ever follow."
---
Being: What Makes a Man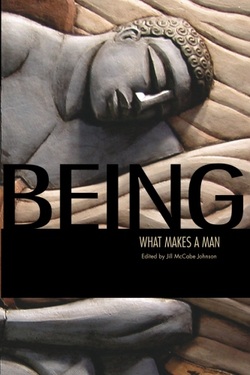 Praise for
Being: What Makes a Man
Published by the University of Nebraska Gender Programs
The men in this collection struggle with a prevailing stereotype as they look at manhood from every possible angle--issues of violence, war, solitude, sports, how to be a husband, son, father, friend. As they wrestle with words, they redefine what it is to be a man, and in the process they find new forms to reflect the changing attitudes and issues of our time. Eloquent, provocative, amusing, amazing--you pick the adjective--the pieces in this anthology may change the way we think and feel.
—J
udith Kitchen, author of
The Circus Train
and
Half in Shade
After Macduff learns that his entire family has been killed, in
MacBeth
, he is overcome by anguish. "Dispute it like a man," Malcolm urges, offering perhaps the only emotion that is legitimate for men to express. "I shall do so," Macduff says, "But I must also feel it as a man," thus revealing in a moment, that men have a far greater emotional repertoire. The stories, vignettes and poems in this volume reveal that range—pain, exhilaration, anguish, joy, confusion, yearning—thus courageously opening the door a little wider for the rest of us. Anyone who thinks men don't show their feelings needs to read this!
—Michael Kimmel, SUNY Distinguished Professor of Sociology and Gender Studies
Executive Director, Center for the Study of Men and Masculinities
I couldn't get wait to get my hands on this book. One gorgeous essay after another. Say, if you ever had a father or a husband or a son (or a friend)—that is, if you're some guy's daughter or wife or mother (or friend)—you have to read this book.
—Dinah Lenney, author of
The Object Parade
---
Becoming: What Makes a Woman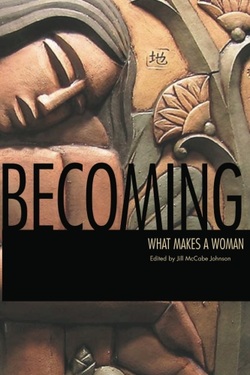 Praise for Becoming: What Makes a Woman
Published by the University of Nebraska Gender Programs

"Becoming: What Makes a Woman brings to life those remarkable moments, large and small, that transform an individual, steering us toward the lives we were meant to lead. An astonishing array of gifted writers explore intimacy, doubt, love, joy, and sorrow to form this exhilarating anthology. A rich and wonderful read."
—Dinty W. Moore, author of The Mindful Writer: Noble Truths of the Writing Life

Beautifully conceived and organized, this collection unfolds much the way a woman's life reveals itself: slowly, gently, and sometimes painfully nudging our way into vision.
—Brenda Miller, author of Season of the Body and Listening Against the Stone


---