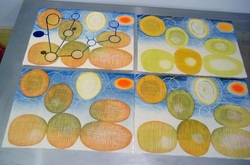 Time magazine called
Harry A. Duncan
"the father of the post-World War II private-press movement." In 2016,
Gibralter Editions
, once Duncan's fine letterpress and now a boutique publishing company run by book artist Denise Brady and Harry's son Guy Duncan, will publish
Time Flies / Time Stands Still
(working title), a tribute to Duncan, and honoring the centenary of his birth. The "book" is a collection of letterpress poetry from many of the world's most highly regarded printmakers and letterpress artists, each contributing copies of a broadside designed around selected poems on the theme of time.
Pictured here are stages of progress for the print that internationally acclaimed artist Karen Kunc designed for my poem, "Traveling at the Speed of Light." The poem was actually written as an ekphrastic poem in response to Kunc's work. She didn't know this when she selected it from all the works she read, so it was a fun surprise for both of us that she zeroed in on the poem she had actually inspired. By the way, Karen is also the creative genius and generous benefactor behind Constellation Studios, a
gallery, workspace and professional classroom in a refurbished, historic building in Lincoln, Nebraska
that provides access through workshops and events to
printing presses, a type shop, wet paper studio, bookbindery, print and book collections, and mixed-use spaces under the visionary eye and warm mentorship of Kunc.
Time Flies / Time Stands Still
will be a highly collectible, limited edition book that will allow collectors to own works of art by such world-class printers as Denise Brady, Alison Wilson, Jim Cox, Karen Kunc, Bonnie O'Connell, Amy Haney, and Laura Capp. Proceeds will support the historically important press, and also help fund an apprenticeship for an aspiring printer. I'm not sure if they're accepting pre-orders, but if they are, I would get my order in as soon as possible.
This is bound (no pun intended) to be a publication that special collections in universities, libraries, and private collectors will clamor to own.